Unser Team
Esprit Montagne - Unser professionelles Alpin Team
Espritmontagne organisiert Sportreisen in Aosta-Tal und auf den Bergen von der ganzen Welt seit nunmehr 15 Jahren, mit Leidenschaft immer an erster Stelle.
Esprit Montagne trägt seine Haupttätigkeit im Herzen der Alpen zwischen Frankreich, Italien und der Schweiz aus.
Die Berg- und Trekkingführer der Gruppe haben alle eine wichtige Entscheidung für ihren Lebensstil getroffen um ihre Leidenschaft für die Berge zu teilen und ständig in engem Kontakt mit der alpinen Umwelt zu leben.
Unsere ortskundigen Bergführern
Unser Team besteht aus erfahrenen und zertifizierten UIAGM Bergführern und UIMLA-Trekkingführern, die alle in den französischen, italienischen und schweizerischen Alpen leben. Sie sind in diesen Bergen aufgewachsen, haben sie erkundet, hier ihre ersten Erfahrungen gesammelt und sind an ihnen gewachsen. Sie haben die Berge respektieren und lieben gelernt.
Aber nicht nur: Sie sind oft nach Nepal, Asien, Südamerika oder anderswo in einige der schönsten Berge der Welt gereist und haben eine solide Erfahrung aufgebaut.
Für die jungen Guides des Teams sind sie nicht zufällig bei uns!
Mountain Guide sein heißt, sein Leben den Bergen und damit der Heimat zu widmen- und genau das verwirklichen unsere Guides aus vollem Herzen!
Unser Reservation/Empfangs Manager Team
Unser Team arbeitet seit vielen Jahren im Fachbereich Touristik, und das sowohl im Aosta tal als auch in der ganzen Welt. Wir sind unserem Heimatland tief verbunden, kennen und lieben es in all seinen Facetten! Wir arbeiten in einem über die Jahre stark gewachsenen Netzwerk, und bleiben dabei immer Naturverbunden- sowohl Sommers als auch im Winter.
Wir sind Ihre erste Adresse und ihr direkter Ansprechpartner bei allen auftretenden Eventualitäten und stehen Ihnen bei der Planung Ihres Alpin Abenteuers mit Rat und Tat rund um die Uhr beiseite!
DAS TEAM

Danilo - UIAGM Mountain Guide
Born in a family of mountain farmers, he grew up in a small wild valley of the Aosta Valley, in Italy, and he became Aspirant Mountain Guide in 1981.
He managed a Hotel for 5 years and then officially became Mountain Guide in 1989. He began his guiding activity with heliskiing in the Wild Valgrisenche and from there he specialized in off-piste skiing, working in Heliski Bases in Canada and Turkey, and skied in the Kyghizstan mountains.
His curiosity and his thirst for adventure and discovery took him to visit many different countries and cultures: he organized expeditions around the world, from Mount Kilimangiaro to Mount Kenya in Africa, to Aconcagua, Cotopaxi, Chimborazo, Huana Potosi and the Sajama in South America and the Mera Peak in Nepal. He also organized many treks in Nepal, Bhutan, Bolivia, Perù, Mongolia, Kyrgyzstan and others ...
He speaks Italian, Patois (the Aosta Valley original dialect), French and English.
In free time he likes to practice his passions quietly and serenely: walking, mountain biking, paragliding from time to time and rock climbing on the beautiful walls of his valley, the Valgrisenche, and hiking on the great peaks of the Alps.
Today he lives in Switzerland, where he continues to exercise the job of his life.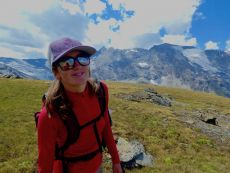 Mickaela - Your first contact at the Office
She has been working in mountain tourism with Espritmontagne, summer and winter, since 203.
She speaks Italian, French, English, German and Spanish.
She has traveled all over the world: in Bhutan, South Africa, Kyrgyzstan, Bolivia…
Her great passion is rock climbing but she loves the mountain in all its versions, from skiing to mountaineering and trekking!
Jean Luc - UIMLA Trekking Guide
Grown up in Savoy, Jean Lu is a Trekking Guide for over 15 years: he has organized and supervised treks to the French and Italian Alps, as well as trips to Nepal, in the Wild Valleys of Naar Phu, Manaslu, Langtang and in the Annapurna and Everest Massifs.
He is Rescue Ski Patroler in Les Arcs Ski Station for over 10 years now and is in charge of the local weather forecast for Les Arcs Station (ADS) and snow forecasting collaborating with Météo France.
Passionate about rock climbing and mountaineering, he also worked in Acrobatic Work, in the Mechanical Lifts at the Vanoise Express Cable Car (180 places) which connects Les Arcs to La Plagne for the Paradiski Connection for 5 years. Today he runs in the mountains between France, Italy and Switzerland.
Corrado - Mountain Guide
UVGAM-UIAGM Mountain Guide since 1996.
"For more than 30 years I have been riding the mountains all over the world, but my passion is still as in the first days. I am curious by nature, I love to get new experiences and my profession as Mountain Guide, which I have been doing as main job since 1996, allows me to live life as I love it ... across mountains!
Skiing and rock climbing are my favorites activities and if there is a nice slope to climb up with ice axe and crampons... that is my ideal day!
Ever since I became Mountain Guide, I have always worked at the Heliski Base in Valgrisenche, combining this activity to classic off-piste skiing and ski-touring; in spring I like to visit new skiing spots, and I have therefore explored many valleys and mountains in the Western Alps, Morocco and Iceland. I have also been in Peru, Argentina (where I climbed Aconcagua), Pakistan and Nepal for trekking and expeditions.
In my free time I love rock climbing, riding on MTB and help my wife manage our B&B Gran Paradiso.
This is my world, I like to live it in a simple way and from life I ask for freedom and serenity. "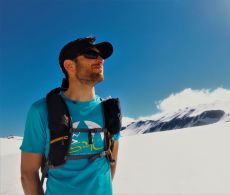 Pierre - UIMLA Trekking Guide
"I am Trekking and Trail Guide and Mountain Biking Instructor for almost 10 years, I live in Haute-Savoie, the Northern Alps are today my favorite playground. Of course I love adventure but especially I love to share it. Whatever the pace is, my goal is above all to make your sports holidays unforgettable! I also love to discover the world differently, to savor it, to understand it and to marvel at it ... Three unforgettable destinations will always stay in my heart: New Zealand and its Alpine Tangariro crossing, Japan and its explosive culture and Greece and its Mount Olympus. ..See you soon, in the mountains "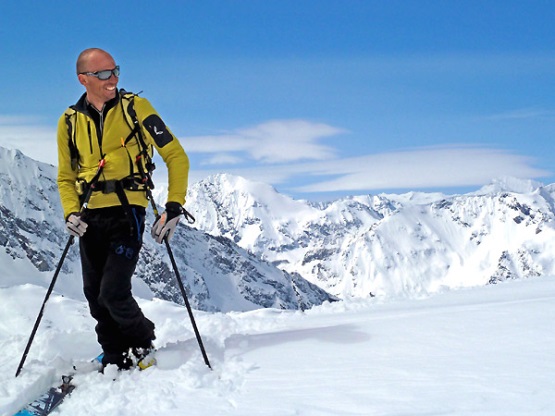 Alex - UIAGM Mountain Guide
UIAGM-UVGAM Mountain Guide and local weather and snow data expert in charge since 2004, technician in the Aosta Valley mountain rescue since 2007. Instructor in the local mountain rescue, in charge since 2016.

"My profession and the innate love for mountain have led me over the years to retrace some of the most beautiful rock, ice and mountain alpine ways, to make my skis slide down the most fascinating slopes of our mountains and those beyond the Alps, without forgetting the wonders kept on our big islands (Sardinia and Sicily) and just beyond the border. I'm a great "coneisseur" of the whole Aosta Valley, where I was born, including the little valleys, but I do not deny what other regions (Bernina, Dolomites, etc.) and the foreign mountaineering can offer."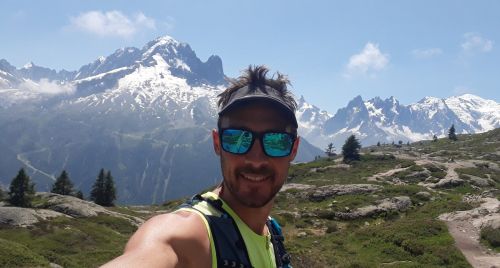 Ludovic - UIMLA Trekking Guide
"Passionate about sport since my childhood, I gradually turned to the practice of mountain activities, me who comes from the Jura foothills.
Practicing mountain biking at a high level during my schooling, I have a State Cycling Certificate. Lacking mountain after a few years in the plains, I headed to the Savoy where I passed and got my diplomas of Trekking Guide and Ski Rescue Patroler.
Today settled in the Chamonix valley, I pursue my mountain passion, summer and winter, in various activities ranging from mountain hiking to ski mountaineering through cycling and mountain biking, or even Trail (which I practice at high level). These last summers I guided mainly trail running.
So I hope to be able to share with you these many years of mountain practice, made of adventures and share, but above all to transmit you my mountain passion."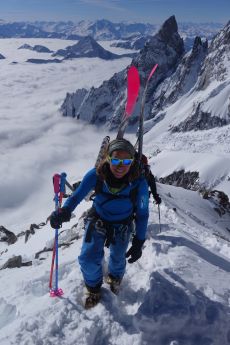 Giovanna - UIAGM Mountain Guide
UIAGM-UVGAM Mountain Guide since 2006
"Along the years my "mountain hunger" has led me to many wonderful places such as Kalymnos, Sardinia, Sicily, Mallorca, Verdon, Ceuse, Buoux, Siurana, Margalef, Albaracin, Antalya and many other fantastic spots as for rock climbing. However, my mountain passion is at 360 °: from the highest and fascinating peaks of our mountains (Mont Blanc, Matterhorn, Rosa, Gran Paradiso, Bernina, Dolomites) as for classic routes, to some ascents in Peru (Cordillera Blanca) and Northern India with regard to foreign mountaineering and rock climbing at high altitude.?And last but not least, in winter, when fingers suffer on the bare stone (at least in Aosta Valley), imagination can be expressed on the magnificent snowy slopes or on the fantastic ice falls that our Valley offer."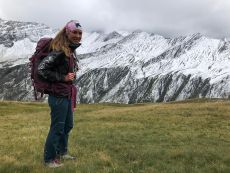 Noémie - UIMLA Trekking Guide
"In the footsteps of a passionate grandfather, it was in the High Pyrénées that my legs walked their first peaks, climbed their first rocks, and my heart rocked. Today after many years, it is my turn to guide you. Trekking guide and trail runner, I had the chance to work in several French mountain chains. In winter, the Jurassian wild areas on skis; in summer, the endless trails of our beautiful Alps ... The mountains to relax, share, learn, surpass yourself ... Adventure awaits! See you soon, on trails."
Edy - UIAGM Mountain Guide
UIAGM-UVGAM Mountain Guide since 2006
Commercial helicopter pilot since 2016
"Born in Aosta in 1978, I lived in a village in the Gran San Bernardo valley, where since childhood I started moving my first steps in the mountains behind home in summer and winter. Mountain Guide since 2006, I love high mountain and ridges, wild and solitary lands are my favorites. In winter skiing is my main activity, from classic skitouring to great spring raids. Snow and meteorological observer since 2005, the knowledge and the constant data collection on the terrain are for me an essential safety requirement in any off-piste activity.Hopeless flying enthusiast, I am glider pilot since 2010 and commercial helicopter pilot since 2016."
Saloméé - UIMLA Trekking Guide
"I have been walking the trails since I was very young, walking, mountain biking, cross-country skiing, ski-touring and finally horse riding ...
Cross-country ski trainer in winter in the Jura (at home), mental coach and instructor in summer (Trekking guide, mountain biking and horse riding instructor) I am keen to share my passions and discover our beautiful corners (French and Swiss Alps, French and Swiss Jura) with as many people as possible !
Breathe the fresh mountain air, relax, learn to observe, get to know each other, have a great experience ... that's what I offer you! "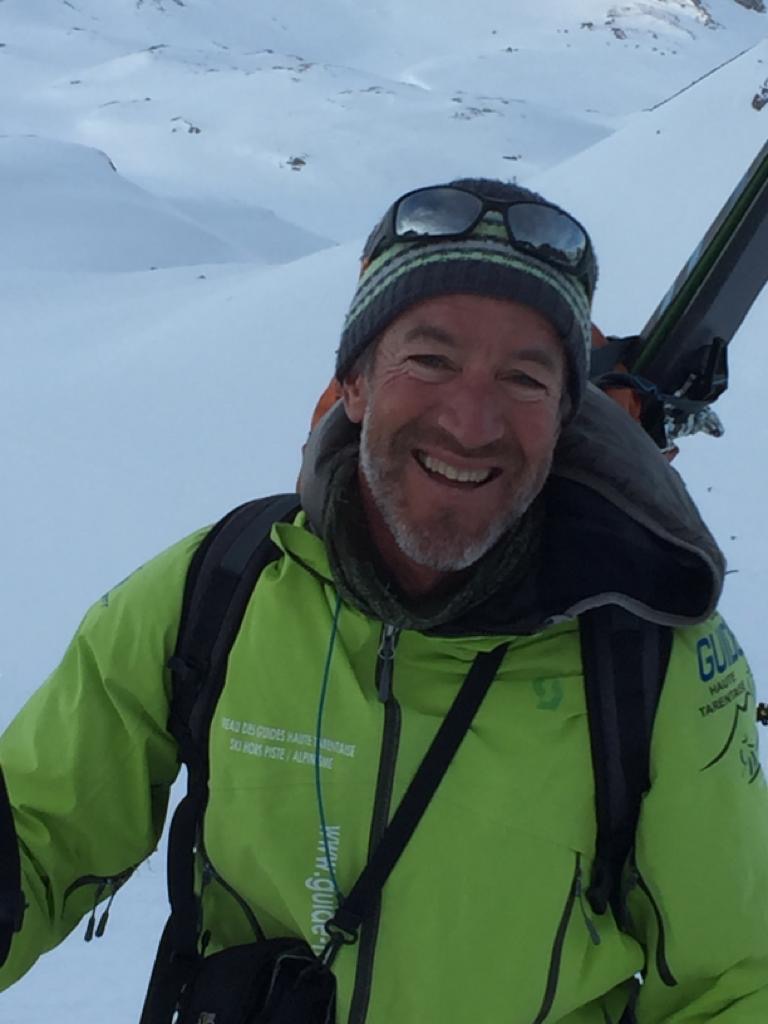 Pierre - UIAGM Mountain Guide
"Always attracted by nature and the great outdoor environments, and driven by a thirst for discovery, the profession of Mountain Guide suits me perfectly.
This profession of "mountain craftsman" brings me to live the great pleasure of sharing and trust that settles in a rope.
I am based in High Tarentaise in Val d'Isère; my favorite winter days are ski touring days out with customers, loyal "companions" since many years ... I love routes next door, but I've also done many ski trips throughout the alpine arc, from the Southern Alps to Dolomites, and sometimes further away: in Armenia, Abruzzo, Canada, Greece, Greenland, Norway or Turkey ...
The rest of the year I practice mountaineering and glacier hiking; I have an attraction for climbing big limestone walls in the sun ...!
I had the chance to make beautiful trips and treks in the Moroccan High Atlas, in Ladakh, Pakistan, Anatolia ...
I love photography and it is rare to come back home without a "souvenir album" ...
See you soon!"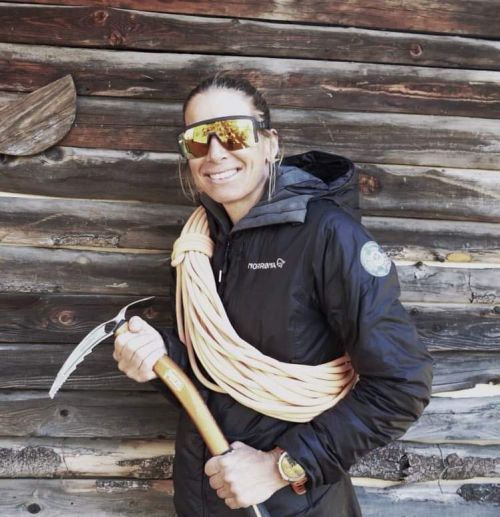 Heike - UIAGM Mountain Guide
Ursprünglich komme ich aus Deutschland. Meine Passion für die Berge hat mich jedoch weit um die Welt geführt. Auf meiner Suche nach Eis bin ich in den Rocky Mountains in Kanada, im hohen Norden Norwegens, als auch in den französischen und italienischen Alpen geklettert. Heute kann ich das wunderschöne Aostatal mein Zuhause nennen. Die Flanken des Monte Bianco erlauben es mir, jegliche Spielarten des Alpinismus zu leben: sei es Eisklettern, Skitouren, Hochtouren oder Granitklettern. Für mich ist das Aostatal einfach der optimale Platz zum trainieren und zum Bergführen!